Every cms out there is easy to use if you're a programmer, but if you're hiring a web design company, chances are you aren't . That's why one of the first things we do when meeting with a potential client is to show them a live demo of LifeWeb (Learn More) our content management software. Most companies don't want to demo their software for you, because at the end of the day the software isn't as user-friendly as they would like you to think.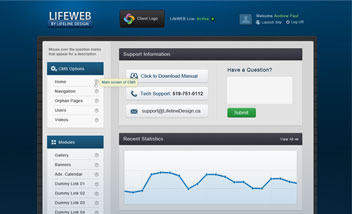 Easily update almost any aspect of your website
Lifeweb is automatically updated on a weekly basis, so it's always using the latest technology
Phone, Email and content assistance is always available
Free 80 page illustrated user manual
Book your
free demo today.